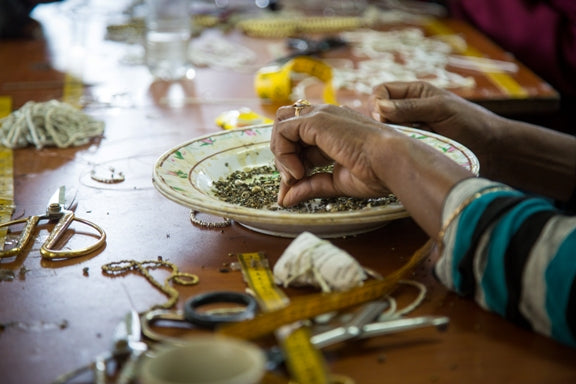 A little about us
Entoto Design was launched as the exclusively distribution channel to market EBA's products in the United States.
Entoto Beth Artisan (EBA) is a Guaranteed fair trade Ethiopian social enterprise dedicated to restoring the lives of vulnerable women affected by the HIV/AIDS virus. EBA offers fair-wage employment as well as a respectful work environment to over one hundred women.
The women create uniquely hand-crafted jewelry pieces using local materials such as recycled tire thread, recycled bullet casing, reused artillery shells, semi-processed gemstones and even coated Ethiopian coffee beans. In addition to jewelry, EBA produces a collection of leather products for local and international markets.
EBA started its operation with only 100 employees. To achieve its far-reaching objectives, it has expanded its line of business to more labor-intensive ones, Leather Goods and Garments and Hand-Woven "Shemma" Cloth productions with the jewelry manufacturing side by side. Due to the expansion of our projects to the aforementioned labor-intensive line of businesses, the company recently creates a permanent job opportunity for about 250 employees. Among them three fourth are women and about 150 women are HIV positive.
Along with our manufacturing social businesses, EBA has been creating a sustainable market and indirect job opportunity for plenty of raw material and inputs suppliers in the countryside.
Basing our grand objectives of empowering, restoring and creating, we have been planning and working different projects outside Addis so that EBA can accommodate more employees especially women.
In general, EBA being established to share and solve some societal problems especially the double discrimination on women through training, empowering and employing in those operational labor-intensive manufacturing sites and the upcoming ones so that our intended objectives can be achieved and realized.
As EBA continues to empower more women we have been giving training to 15 women in traditional rug making. The picture above shows the graduation ceremony held at Federal Small & Medium Manufacturing Industry Promotion Authority.